The Infrastructure Show's Episodes
With Host Professor Joseph Schofer of Northwestern University.
Click on the link below the description to begin streaming the podcast. To subscribe to The Infrastructure Show podcasts or find in iTunes, see the clicks at the top of the page.

Credit: Artist's rendering of the new Harbor Bridge in Corpus Christi, courtesy of the Texas Department of Transportation.
(click for larger image)
What Panama Canal Expansion Means to the U.S. – Part III
Posted August 18, 2015, Length: 14:12
Breaking the Freight Bottlenecks for the Expanded Panama Canal
The effectiveness and efficiency of a marine port is closely tied to the performance and capacity of the landside transportation network that moves goods to and from ships. The expanded Panama Canal, designed to handle significantly larger ships, will challenge U.S. Atlantic and Gulf ports with those larger ships and the resulting higher rate of flow of products in and out of ports. Assuring sufficient landside capacity is a task shared by the private sector (both railroad companies and intermodal terminal operators) and governments responsible for the highway network. The Texas Department of Transportation (TxDOT) has formed a stakeholder group to identify and address the needs of shippers, carriers, and ports along the Texas Gulf Coast. TxDOT has been investing in expanded roadway infrastructure to ease key bottlenecks, particularly those affecting the major port of Houston. In this discussion, Professor Schofer explores some key activities of TxDOT with Caroline Mays, Freight Systems Branch Manager for TxDOT.
The Infrastructure Show is sponsored by Northwestern University.
Descriptions of photos at top of page, from left to right: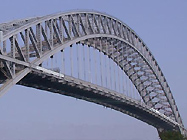 Bayonne Bridge, from Bayonne, NJ to Staten Island, NY;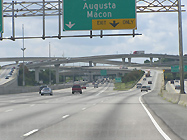 the Tom Moreland Interchange in Atlanta, GA;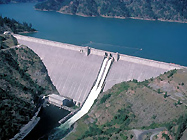 Dworshak Dam, in Clearwater County, ID;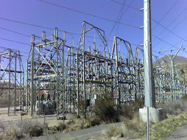 a transmission substation in Orem, UT.
All photos courtesy of Wikipedia.