The Infrastructure Show's Episodes
With Host Professor Joseph Schofer of Northwestern University.
Click on the link below the description to begin streaming the podcast. To subscribe to The Infrastructure Show podcasts or find in iTunes, see the clicks at the top of the page.
Breached levee in Iowa Credit: Photo of courtesy of the U.S. Army Corps of Engineers
(click for larger image)
Will Stronger Levees Protect Us from the Next Round of Floods?
Posted June 27, 2019, Length: 20:23
Spring flooding in the Mississippi Valley and elsewhere in the U.S. has been extreme in 2019, driven by the usual snow melt amplified by several months of record-breaking rainfall. This pattern seems to grow stronger, and incidents of levee failures have become more numerous. Levees are critical infrastructure components that protect lives and property from floods, but when they fail, the damage grows quickly. Is the solution to build more and stronger levees? Or are there other actions we need to consider?
Discussing both problems and options is Nicholas Pinter, Professor of Earth and Planetary Sciences and Associate Director of the Center for Watershed Sciences at the University of California-Davis.
The Infrastructure Show is sponsored by Northwestern University.
Descriptions of photos at top of page, from left to right: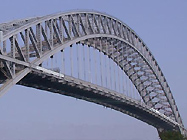 Bayonne Bridge, from Bayonne, NJ to Staten Island, NY;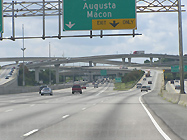 the Tom Moreland Interchange in Atlanta, GA;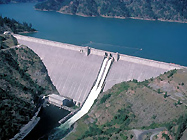 Dworshak Dam, in Clearwater County, ID;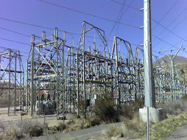 a transmission substation in Orem, UT.
All photos courtesy of Wikipedia.